​One key aspect to creating a safe space for learning for all students is being prepared enough not only to have a daily schedule, but also to be flexible with that schedule. Having a visible schedule on the board not only limits the amount of "what are we doing nexts" but it provides support for students who thrive on structure and planning ahead. It has also been shown to lower anxiety in students who are worrying about the rest of the school day. Doing this requires a fair amount of planning ahead of time, though, as we have to be able to plan for plan a's and b's and c's in case technology doesn't work, something takes longer or shorter than planned, or there are other unexpected delays!
---

​

Another one of my favorite ways to provide differentiation in the classroom is the use of interactive notebooks. These notebooks are basically filled with activities and graphic organizers that students glue in. These notebooks are also separated by subject area, so students have ELA notebooks, math notebooks, science notebooks, and social studies notebooks. I've found that even the simple act of gluing the organizers into their notebooks helps students to remember the information better. Also, as the name would suggest, students tend to really interact with the material that has just been taught (or reviewed) using this format. Then, it is there for them to look at for the rest of the year if review or editing is needed. I also typically like to let them use these on smaller tests and quizzes.
---
Powered by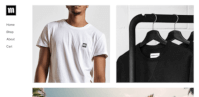 Create your own unique website with customizable templates.